Traditional tonearm shape with hidden beauty and high performance sound.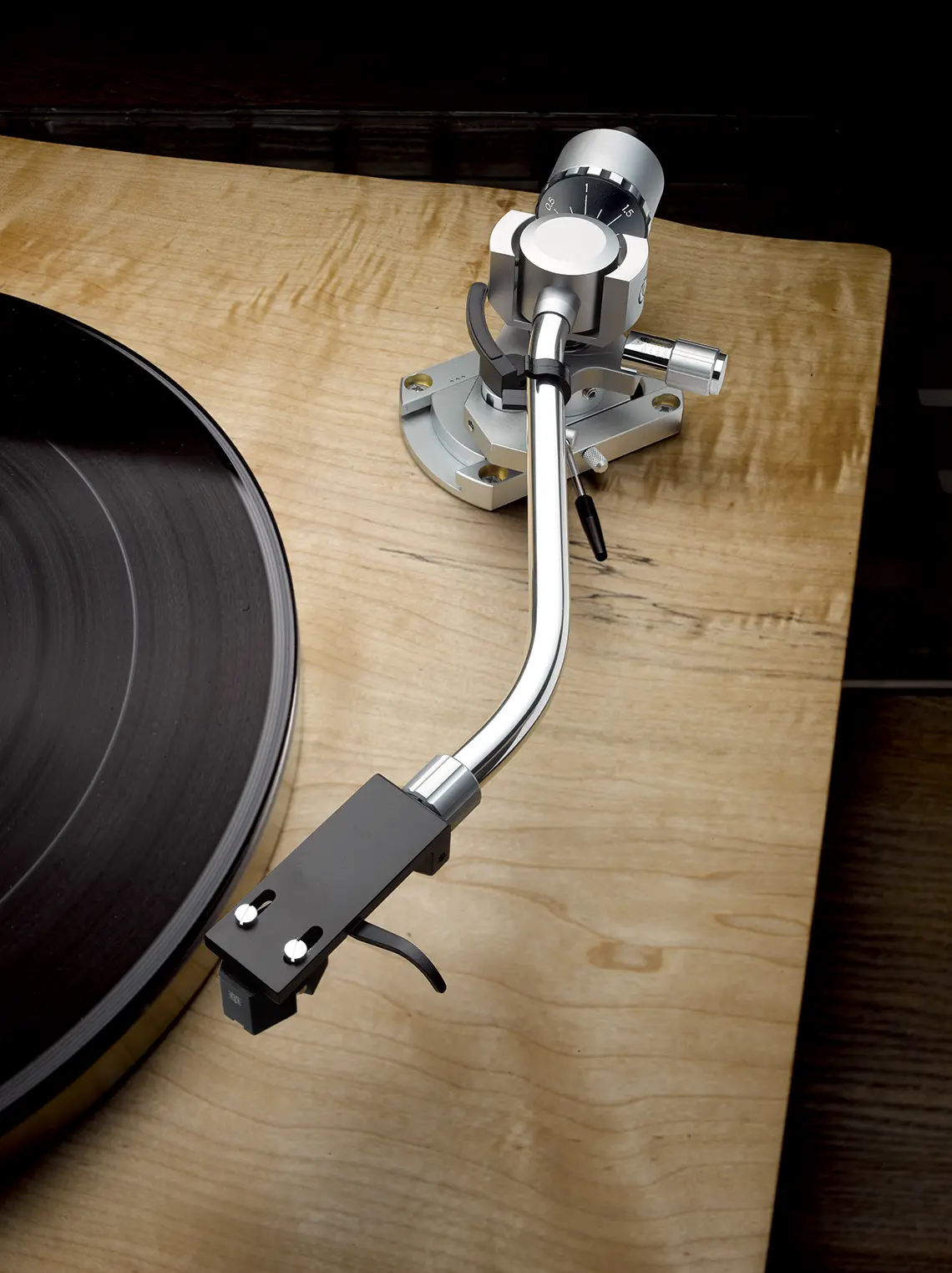 The TA-1 and its longer sister the TA-1L may look like traditional tonearms, with their polished tubular arm 'wands', but within the solid machined bearing cradle lurks the real beauty, very high quality bearings, the sort that offer and ensure outstanding tonearm sound qualities. A detachable headshell allows the user flexibility of different headshell weights, to match the fitted cartridge. The standard headshell supplied is manufactured from a solid billet of aluminium, deep etched and black hard anodised.  All connections are gold plated.
Both length arms come with comprehensive fitting instructions and templates, to ensure they offer the perfect alignment when fitted, and a quality tonearm lead using high quality OFC stranded copper.
| | | |
| --- | --- | --- |
| SPECIFICATIONS | TA-1 | TA-1L |
| Whole Length: | 288mm | 380mm |
| Effective Length (Tonearm pivot – stylus): | 232mm | 322mm |
| Practical Length (Tonearm pivot – Spindle): | 216mm | 310mm |
| Overhang: | 16mm | 12mm |
| Offset angle: | 22.0°  | 16.5°  |
| Horizontal moving sensitivity: | 30mg | 30mg |
| Vertical moving sensitivity: | 20mg   | 20mg   |
| Vertical Tracking Force (VTF) range:  | 0-3g | 0-3g |
| |  (6 gm weight 2 rotation) | |
| Cartridge + Headshell weight range: | 15-29g | 15-24g |
| | (31 / 29gm with sub weight) | |
| Height Adjustment (Plinth to arm wand centerline): | 15-55mm | 15-55mm |
| Vertical Bearing: | Pivot Miniature Bearing (not pivot contact) | |
| Horizontal Bearing: | Miniature Radial Bearing | |
| Output plug: | RCA (XLR : Option) | |
| Output cable: | Single core shield copper | |
| Tonearm Audio Lead wire: | OFC 4N Copper | |
| Headshell lead wire: | Copper with gold plated terminal | |
| Headshell: | Machine tooled Aluminum | |
| Tonearm Net Weight:   | 580g |  610g |
| Attached standard Headshell Net Weight: | 17g  |  17g |