SA-1.2
Unique design, superb sound quality, unique value for money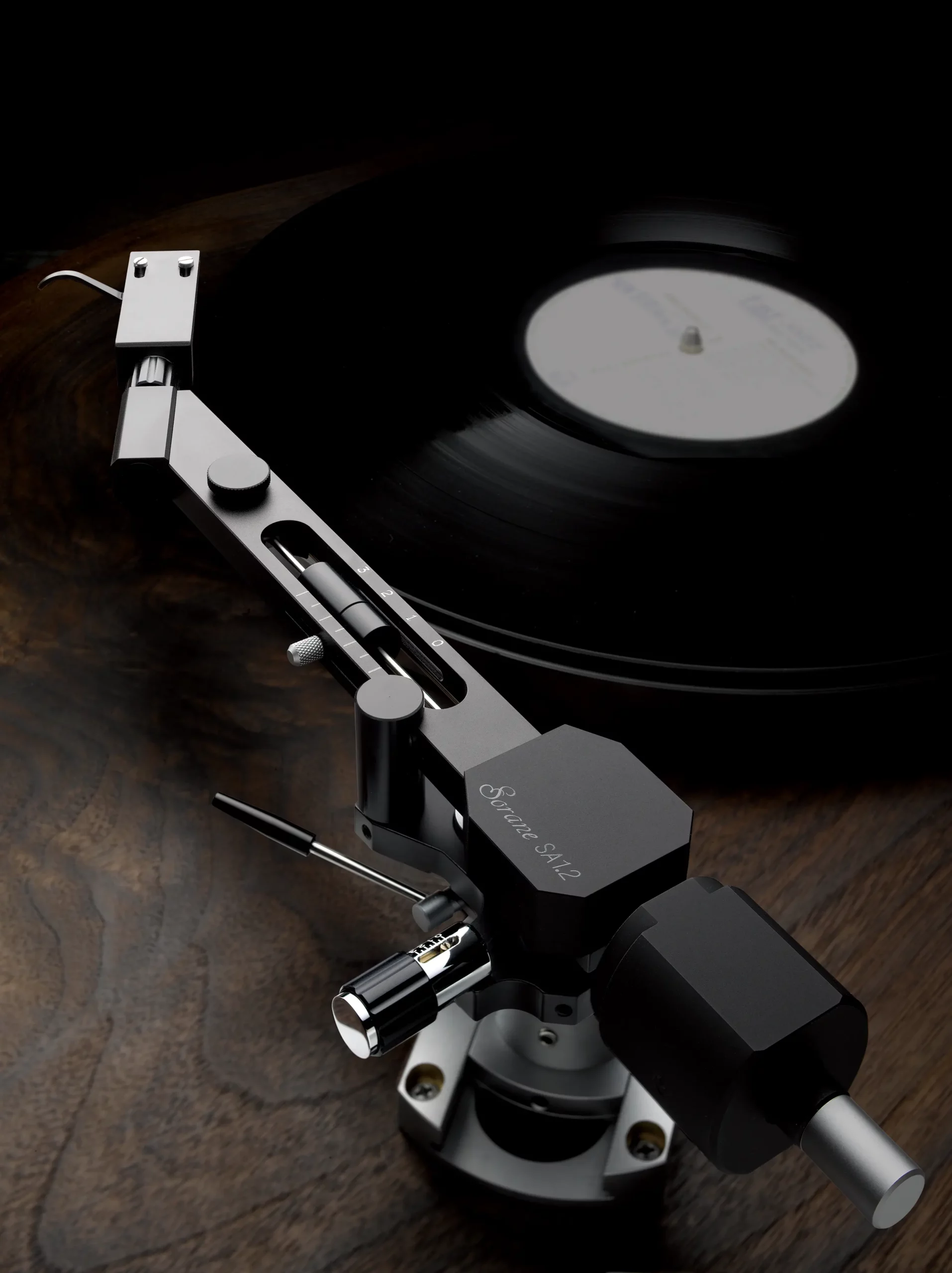 The sound of the Sorane SA-1.2 tonearm is quite unique, due to its ridged design and construction, the main arm component is engineered from one billet of aluminum and assembled with great precision and care. There is virtually none of the resonance associated with S-shaped arms and far more strength plus lower 'critical' resonances than virtually all straight arms.
The weakness of low mass tonearms is that they make poor matches for medium and low compliance cartridges. The Sorane SA-1.2 gives you precise radial-bearing performance and very low resonance, while providing the necessary mass for medium and low compliance cartridges.
A major influence in the performance of the SA-1.2 (Silver anodised) and SA-1.2B (black anodised) is the use of very high quality bearings. The bearings used for horizontal movement are axial-loaded (angular-contact) thrust-bearings. These thrust bearings have zero play and are held in contact by gravity – think of them as acting like a unipivot but with more than one contact point. Because of their design with two tapered seats, they self-align in the presence of a load (gravity) and have exceedingly low friction.
In contrast to classic tonearms from the past (which suffered from resonance and lower quality bearings), the SA-1.2 provides the ideal mass for classic cartridges like the Denon DL103 or Ortofon SPU (also, mono cartridges like the DL102, or even antique cartridges like the GE VR and Fairchild) along with all moving coil cartridges available.
The Sorane SA-1.2 arm has very low tracking error, the superior sonic signature of the billet aluminum arm parts, and the mass equivalent to most 12″ arms, offers a 12″ arm sound in a compact 10″ arm length. A protractor is supplied to ensure the manufacturers optimum geometry but can be altered (simply) if required.  It is ideally suited for low to medium compliance cartridges, especially good at controlling problematic cartridges when it comes to miss-tracking, such as the older 'classic' cartridge designs.
How does the Sorane sound? It has superb tone and timing, with a 'liquid' mid-range to match the very best tonearms. Bass is tight and integrated with the whole, top end is clean and precise. The Sorane SA-1.2 and SA-1.2B offer exceptional value for money, will work well with most cartridges, particularly Moving Coil types, getting the best out of them.
SPECIFICATIONS
Whole Length: 310mm
Effective Length (Tonearm pivot – stylus): 239mm
Practical Length (Tonearm pivot – Spindle): 223mm
Overhang: 16mm
Offset angle: 22.25°
Horizontal moving sensitivity: 30mg
Vertical moving sensitivity: 20mg
Vertical Tracking Force (VTF) range: 0-4.5g (2.5g + 2.0g)
Cartridge + Headshell weight range: 15-45g
Height Adjustment(Plinth to arm wand centerline): 15-55mm
Vertical Bearing: Miniature Radial Bearing
Horizontal Bearing: Miniature Radial Bearing
Output plug: RCA (XLR : Option)
Output cable: Single core shield copper
Tonearm Audio Lead wire: OFC 4N Copper
Headshell lead wire: Copper with gold plated terminal
Headshell: Machine tooled Aluminum
Tonearm Net Weight: 750g
Attached standard Headshell Net Weight: 17g